Your Exceptional Custom Home Building Team
Our team and our partners are the best you'll find in custom home design and building.
Providing design, build, and preservation for tailored heirloom homes in and around Asheville, North Carolina for the past 20 years, we deliver nothing less than superb craftsmanship. If you are looking for the Luxury home builder in Asheville NC, then we are one having excellent expertise and experience to fulfil the client requirements.
Our Values
We only build our homes the right way, so that they last for generations to come. From start to finish, our priority is creating and maintaining a great relationship with our client. We strive for total satisfaction. We are passionate about what we do, we love to create beautiful homes for our clients. Strong management, an organized and controlled home building process, and good financial controls are the backbone of our organization. Custom home building in Asheville NC involves lots of decisions, we help you make educated decisions.
Our Team
Kevin Reed, Owner
Kevin Reed started building high-end homes because he enjoys problem-solving and working with what he calls "neat" materials. He has a degree in Mechanical Engineering, but that was never creative enough. One aspect of the job has surprised him—how much he enjoys forming relationships with clients. His goal from the very first moment was to become the very best luxury home builder in the Western North Carolina area. His philosophy; treat the clients and their home as if you were building it for yourself, and build the home to last for generations. After building homes for nearly 20 years, he has many satisfied clients in the area who appreciate his attention to detail, his creative approach to problem solving, and who value his integrity. In Kevin's spare time, he enjoys traveling with his sons and working on his 1967 Corvette convertible.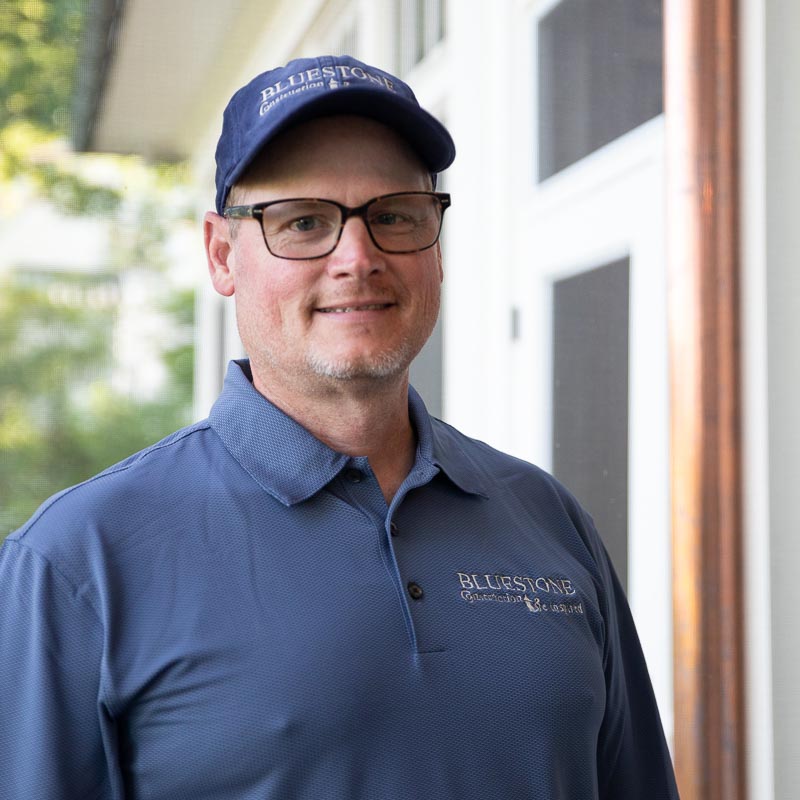 Kurt Kvandal, Project Manager
Kurt originally hails from Chicago, but spent a lot of time on the Great Lakes around Buffalo during college before coming to his senses and moving to WNC. Building Science is his passion and he closely follows the latest techniques for advancing our craft.He enjoys spending time with his wife and 3 daughters, is somewhat fond of a good whiskey, and never without the proper tool on the job.
William Ammann
William is our go to guy when we need to make something happen.  "I will handle it" is the most frequent response I hear when we ask William to take on a task.  William is skilled in both carpentry and is our primary metalworker in the company, in charge of large steel fabrications, like gates, metal trellis's. William and his wife reside in Fletcher along with their young son.  William has been a coach many times for his son's soccer team.
Leslie Cantrell
Leslie is a true master carpenter able to accomplish every task thrown at him.  He has been with
Bluestone
 the longest of all of our employees, 15 years.  Over the years, out of necessity, Leslie has developed techniques and jigs to allow him to do a lot of work by himself which would ordinarily require two people.
Joshua Malpass
Josh has worked with wood all of his life, from an early age in Wyoming, to a stint in the Peace Corps, to many years working with reclaimed lumber, Josh is our wood authority.  He is excellent at fabricating large pieces like cabinets, bookcases, mantels. Joshua and his family live in Hendersonville, but many weekends he is camping or hiking with his son.  He loves being outside enjoying nature.
Marco Sanchez
Marco has a fantastic attitude and is a pleasure to work with.  He absolutely never refuses to take on a task, no matter how unpleasant.
National Associations
Kevin is a contributing member of the Pacesetters, a Builder 20 group organized by the National Association of Home Builders.  This group represents the cream of the crop of builders across the country, who are interviewed and chosen by the group from non – competing markets.  The Pacesetters group meets biannually and consults regularly to share knowledge and expertise in the building industry, offering advice on financial decisions, building performance issues, and problem solving .  The result is elevated home building standards and professionalism for the members of the group.  This  creates a better home and a better process for all involved.
Our Partners
Developments