Spending most of your time at home clarifies what works and what doesn't about your space.
We're all stuck at home, which means that aspects of our space that seemed like mild annoyances a few weeks ago now feel like major inconveniences. Maybe your kitchen felt small when you were eating out multiple times a week, but now that you're cooking every meal at home, it feels positively claustrophobic. Maybe you've realized that you need a home office, or you want a home theater. If you live in the city, the dream of carving out a space in the country where you can get away, or living in a luxury gated community in Asheville, NC may have recently topped your list. You may also be wondering what other disasters you need to be proactive about in your custom home design. If you've been thinking about building your custom home in the mountains, Bluestone Construction is here to help.
Design To Safeguard Against Disaster
Passive survivability describes how equipped your home is to keep you safe during the loss of utility infrastructure. Floods, blizzards, ice storms, earthquakes, landslides, hurricanes, fires and tornadoes all pose a threat in the Carolinas. If you're in a floodplain for example, there are construction and drainage choices that will keep your family and property safer.
Want your electrical appliances to stay on, even if the grid goes out? Telsa and other companies make rechargeable battery packs that fill from solar panels or the grid. If the power supply is disrupted, they switch on instantly. These are a good short-term solution and with enough solar panels, they can be a longer-term solution.
A home standby generator can also be installed. If it's natural gas, it will run off the gas line you already have. Generators are typically located outside, where they can be hidden with landscaping. If necessary, a generator could also be housed in a mechanical room that vents outside.
Working From Home?
Some key elements of your home office need to be considered during construction. Where will your computer be? What other kind of technology will you need? Wiring can be placed behind drywall, to avoid a tangle behind or under a desk. We also want to be intentional about how many outlets you need and where we place them.
It's difficult to concentrate at "work" if you can hear your dog barking at the delivery person or your kids shouting. We can dampen sound with extra insulation.
Studies show that organized work spaces enhance productivity. So maybe add some built-in file cabinets, drawers, and bookshelves to your remote office?
Entertain Yourself At Home
Game rooms, home fitness centers, craft studios, and great porches make your home feel like everything. Who needs exercise equipment slick with other people's sweat or a hip patio restaurant, when you have a home gym and an elevated porch, with a fireplace and mountain view.
You can also have a full theater experience from the safety of your home. We'll wire and soundproof for it, and make sure it's in a room without natural light, where people can enter and exit without blocking the screen.
Want to drink in an upscale lounge? One of our client's turned their basement into a bold, evocatively-lit cocktail bar. Its ambiance rivals that of even the artsiest commercial bar.
Need to keep the kids (or the husband!) happy and out of your hair all summer? A gorgeous swimming pool works well for the kids, and we built an indoor putting green for one client in the Asheville NC area.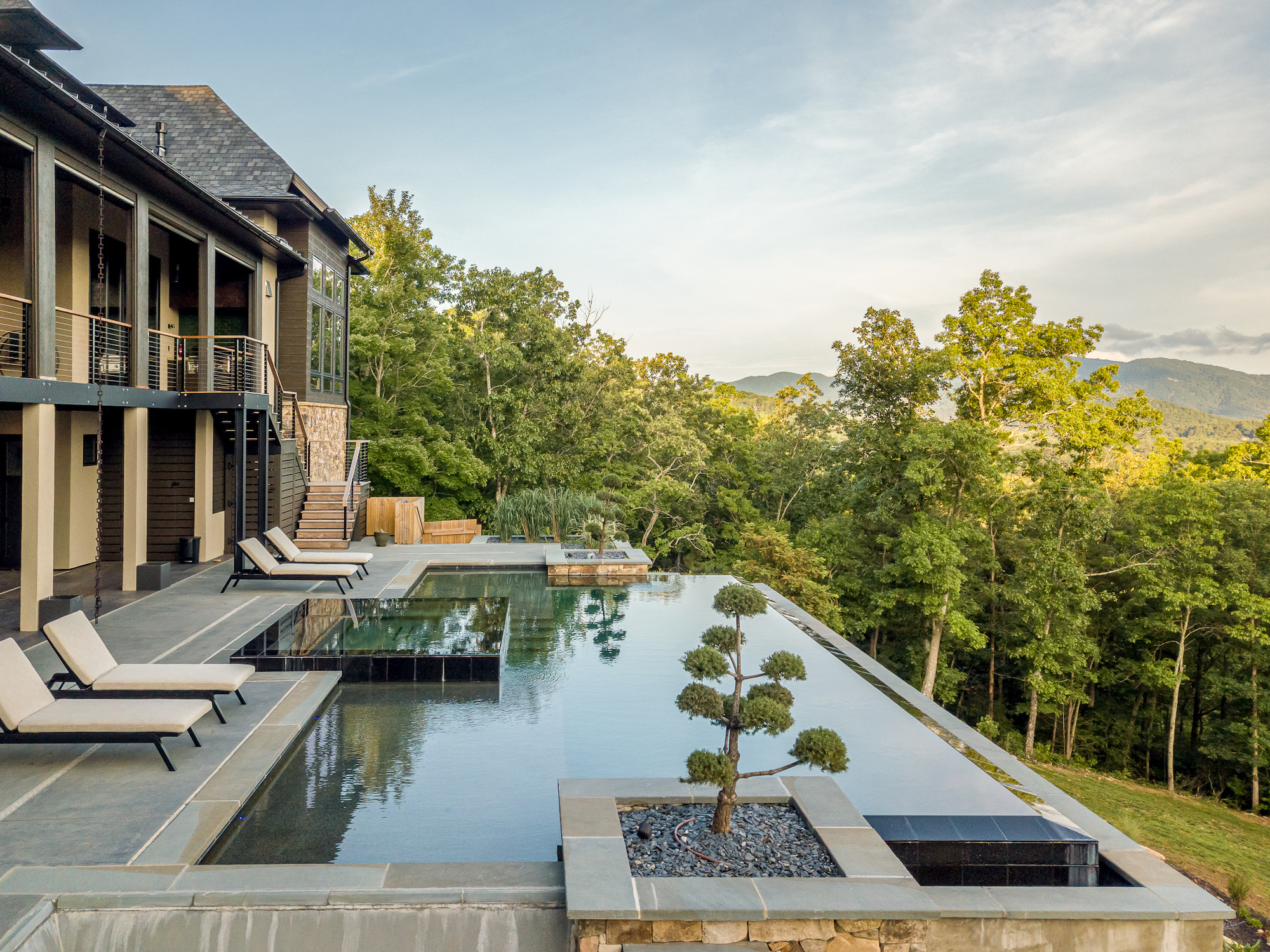 Grow Food Year Round
Eat local—from your own yard! Include a sunroom in your home or a greenhouse in your yard, and you can have fresh veggies even in winter.
Consider A Classroom & A Playroom
Whether you're a full-time homeschooling family or you can't wait for your kids to return to their classrooms, a kids' workspace can help the youngest residents stay focused and organized. And if this homework station is in a communal space, it can help you monitor computer habits.
Kids also need a safe place to make a mess. Unless you want them to take over the family room, consider adding a playroom to your custom-build. Easy-to-clean wall coverings, such as eggshell paint or vinyl grasscloth, are good options. (Avoid flat paint and real silk or vinyl—they show marks forever.) Carpet tiles are more sensible than rolled carpeting, since you can replace a single block if a stain refuses to come out.
Built-in storage is a must—shelves for books and board games, hollow cushioned window seats for bulkier toys. (We use slow-close hinges, to avoid crushed little fingers!)
Extraordinary Times Call For Extraordinary Spaces
But it's also nice to have extraordinary spaces in ordinary times. Custom homes are about creating a space that works for you and your lifestyle, not a space that you have to work around. We build extraordinary custom homes in the western Carolinas, and we'd love to speak with you about your family's custom home needs in the Asheville, NC or Greenville, SC area.