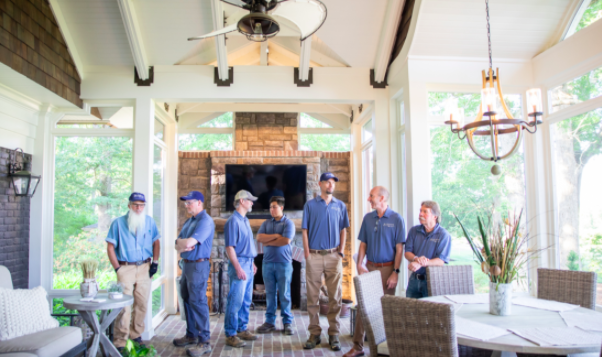 Building Science combines knowledge from the architecture and design fields, as well as of building materials, home systems, engineering and more.
Kurt Kvandal, Project Manager for Bluestone Construction, thinks of building science as "trying to build the most efficient house, as efficiently as possible."
Kurt grew up doing construction projects with his father and grandfather, before studying political science in college. "I've always liked to read and learn," he says. "I thought I would go into teaching."
Instead, he started building. Studying building science was a fast and natural evolution, because Kurt has always wanted to know as much as he could about whatever he's doing. He subscribes to trade journals and takes continuing-ed classes, problem-solving and debating with other building professionals for fun. ( He refers to these colleagues as "construction nerds.")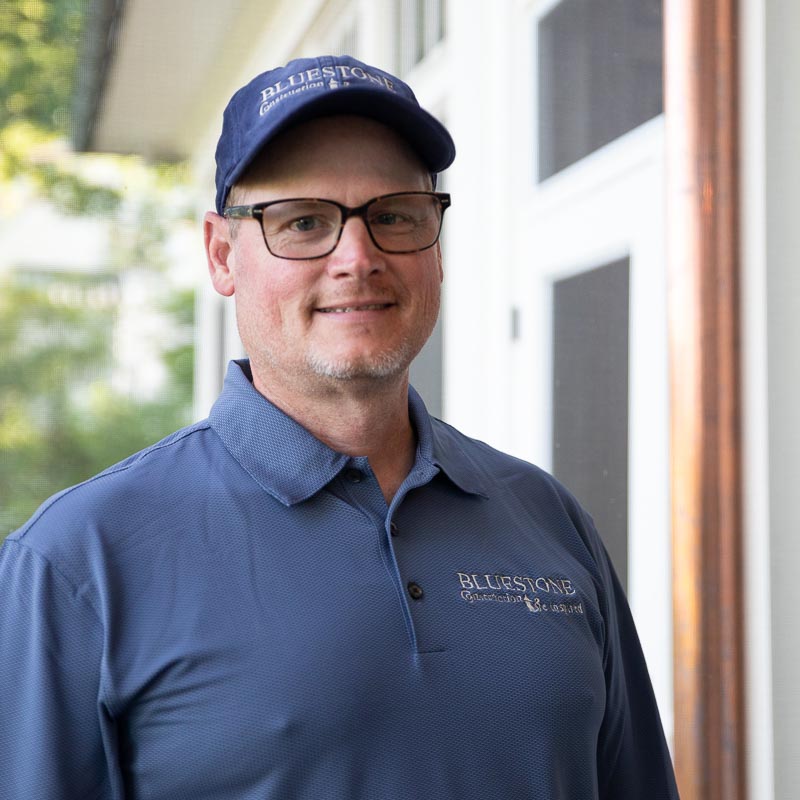 Building Science Is Location-Specific
Kurt quickly learned that building in Asheville is different from building in the cold, damp environments he had previously lived in—Chicago, Buffalo and the Great Lakes regions.
Building In Asheville
"Asheville is a unique climate zone, in that it's one of the few parts of the country that has nearly the same number of days where you need to use heat, as days when you need to use the AC," he says.
This has implications for builders. "In the north, we normally install vapor barriers on the inside of the house, to keep condensation from forming inside. In the south, we do it on the outside of the house, to keep condensation from forming outside. But we can't do either here in Asheville."
Instead, Kurt and his team have to be highly knowledgeable about building materials. "We look for materials that are vapor permeable, to allow the vapor to move back and forth through the walls," he says.
Asheville's clay soil, coupled with its sloping landscape, is also a major challenge for builders.
"Asheville's soil basically liquifies when it gets wet," Kurt says. "It doesn't bear weight well, so a lot of houses have to have lots of engineering."
Building Science Is About Using The Right Materials
On a recent remodel, Bluestone discovered such bad soil that they had to work with an engineer to design an entirely new support system for the house. This is another aspect where material choices can be critical. Heavier materials may have to be traded for lighter materials to make a house work on a particular site. If a structure is too heavy for it's site, the walls will crack.
Building Science Is About Knowing How To Build On Slopes
"Sometimes home inspectors miss things they really shouldn't," Kurt says. "Once a client had an inspection that didn't turn up anything, but we immediately noticed a horizontal crack running across the foundation. We put our level and tape on the walls and discovered they were leaning in seven inches!"
Asheville has frequent landslides. If the slope of a site is greater than 35 degrees, it may not be wise to build on that site, or a house may need to be built on one part of the site rather than another. A good builder has to know how retaining walls work and when they're necessary, and says Kurt, to ask questions such as, "How far down do we have to go before we get good soil?"
What Does a Construction Project Manager Do?
A project manager at a construction company is part builder, part engineer, and part diplomat. Communication, both with the client and with the building team, is a big component of the job. "You're kind of a quarterback, making sure everybody in the right spot and has the right information," Kurt says. "If you keep the client informed about the whole process, they can make better decisions all the way through."
Project managing is as much about choosing good subcontractors as it is about building science. "They have to know what to expect from a job, and you have to know what to expect from them," says Kurt. "You have to make sure that when subs show up on the job, everything is ready for them, so they're not wasting time that they could have been at another job making money."
Managing employees, a schedule and budget and making adjustments as needed is a key responsibility of the project manager. Kurt's background coaching sports helps him identify strengths among his crew, to ensure that everyone is in the right position to be the most effective.
Building Science is Problem-Solving
With a custom home, Bluestone starts with a schedule of about 15 months—"But that's assuming you're not going to have the rainiest year in the history of Asheville," Kurt says. 2019 has been incredibly wet for the area. And custom-building is not like building a tract house, where owners pick from a few designs, and all the subcontractors know exactly what to do, because they've already wired that exact house many times.
Asheville is a small community with an active building culture. "All the builders are competing for the limited number of subs that can do the high end stuff," says Kurt. "If you take care of your subs and you treat them well, that helps move your job up in the line."
Before coming to Bluestone, Kurt worked for an architecture firm. "The architects would say, 'This is what I want, how do we do this?' They want to use the right process, but they're not going to compromise their design."
Kurt learned a lot about building science in those years, as he problem-solved creative ways to ensure structural integrity without compromising design vision. This particular firm specialized in modern, minimalist architecture, which meant there wasn't a lot of room to hide necessary structural elements, such as ductwork. "Figuring out how to make everything work while keeping the visuals clean really helped hone my process," Kurt says.
How Important Are Building Materials?
"Great materials can be a hard sell for clients, because it's the steak, not the sizzle," says Kurt. "It's the stuff behind the walls that they don't see, so it's hard to get them to pay extra for the best. But the payback is in comfort. Your house will be less breezy in the winter, and you won't feel the warm humid air inside in the summer. It's also much better for the environment because we're using less energy."
If a home is situated in a valley or an area protected by a lot of trees, it may not get enough sun to thoroughly dry out after rain or snowfall. "Mold and mildew can be a big issue here," Kurt says. "We have to be super cognizant that we're managing all the moisture and shedding it on the outside of the house, before it has a chance to get in."
Whereas many builders only use rain screens behind certain materials, Bluestone uses rain screens behind every type of siding, so that air can get behind siding and dry it from the backside. Kurt is also a believer in whole house dehumidifiers, which can be installed as part of the HVAC (heating and cooling) system.
Sometimes highly personal factors play into material choice. "Do you open your windows as much as possible? If you do, you should maybe avoid wide planks. Natural wood doesn't respond well to open windows," Kurt says.
Building science is dynamic and constantly evolving.
According to Kurt, "Just when you think you know it, there's new information out there that might change the way you were doing something." It's part of what he loves about the field. It can also be challenging.
For a long time, Asheville's building code required vapor barriers in homes, regardless of if the contractor thought they were more harmful than helpful. "We've done a lot of remodeling where we've torn out vapor barriers, and there's mold behind the wall," Kurt says.
Building Science and Green Building Practices
Bluestone usually keeps a recycling bin on their job sites, to be able to salvage and reuse materials. They use green-stamped wood, which means it has been certified by the Forest Stewardship Council for responsible sourcing.
Bluestone also uses low or no VOC paints. VOCs stands for volatile organic compounds, which leak gas as they break down, so low or no VOC is much better for both the client and the environment.
"Our preferred floor finish is green-certified and water-based. We recently put in this amazing white wool carpet in a home. That's pretty green," Kurt says.
Bluestone's Building Philosophy
Kurt is very clear about his intention when he leads a custom-home project. "We're trying to build homes that will be here long after we're gone, so we won't just put anything up. There have been times when we've walked away from a job, because it wasn't safe or practical. If you're going to put your name on it, you want to be proud to bring people back there."
The Bluestone team members have different but complementary strengths. Owner Kevin Reed has a degree in engineering, while Kurt cultivated impressive design skills at the architectural firm. Sometimes Bluestone brings in additional engineers for consultations, and sometimes the builders have to help architects better understand building science.
"Unfortunately, there are a lot of design professionals out there who don't have the requisite knowledge of building, which makes you appreciate the ones who do," Kurt says. But he's quick to add that many architects are willing to listen to a builder's advice and to respect their hands-on expertise.
"With custom-build, you're not reinventing the wheel. You're kind of inventing the wheel," Kurt says. "And that part's fun. You're doing something that's never been done before. Each house we do is unique. It's drawn by an architect to fit those clients."
Building Science Includes Pricing
Contractors generally price in one of two ways—fixed pricing and cost-plus pricing. Bluestone uses cost-plus, for it's transparency.
Given a complete set of plans, Bluestone can offer a very accurate estimate, but what the client ultimately pays is exactly what the house costs, plus the cost of the human labor involved.
Clients receive an itemized budget and bills, copies of every receipt, as well as copies of the crew's time sheets. They have a paper trail to account for every cent they're being asked to pay.
Fixed pricing means that a client is provided a price up front, and that's what the job will cost, no matter what. This cost is usually a significant overestimate, to ensure that the contractor is covered for any unknowns that may arise. With fixed costs, clients don't see material or labor costs. They pay on draws, and don't know where in the project they've gone over or under budget.
"In fixed-pricing, if you're looking at a house that you think is going to cost 1.2 million, you're going to offer the fixed price of 1.5 million," Kurt says. "At Bluestone, if we think its gonna cost 1.2 million, that's what we put in the budget. And it's usually really close."
Why Working at Bluestone is Great
Kurt appreciates that Bluestone's owner, Kevin, doesn't cut corners.
"He won't build it unless he can build it right. He has that reputation around the area, too. If you want a nice house or a big house, there are lots of builders out there, but if you want to build the best house possible, you need to have Kevin do it."
Kurt also has absolute confidence in his crew's passion for their work. "A lot of the guys that work for Bluestone do this for love. It pays the bills, but they do it for love."
Kurt's favorite thing about construction is that, at the end of each job, there's a tangible, beautiful and useful product. "It's not Sisphyus pushing the rock up the mountain and starting over again every day. You have something to show for your work," he says.